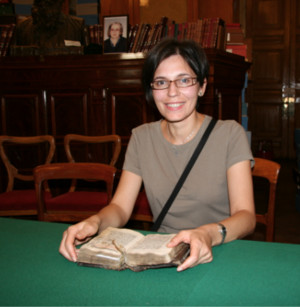 Irina Kuzidova is a Senior Assistant Professor at the Department of Old Bulgarian Literature. She has a master's degree in Bulgarian philology (2000) and a doctorate in medieval Bulgarian literature (2005). Her research interests are in the field of short narrative genres, medieval medicine, the reception of liturgical prose in medieval Bulgaria, as well as the old Bulgarian translations of Jerome's biographies. She specialized in Belgrade (2003), Vienna (2006 and 2009), St. Petersburg (2010), Rome (2012). She is a participant in research projects related to the digitalization of the old Bulgarian manuscript heritage. As a part-time lecturer she taught seminar courses in Old Bulgarian literature at SWU Neofit Rilski - Blagoevgrad (2008 - 2009).
Selected Publications:
Observations on the Old Bulgarian Translation of the Vita Sancti Hilarionis by Jerome the Blessed. – Slavia, № 81, 2012, 2, 167-178.
The Reception of the South Slavic Anthologies with Wise Sayings during the Late Middle Ages. – In: Literary Researches, № 32, 2011, 209-221. (Tbilisi, Georgia).
Textologische Übersicht von südslawischen Abschriften der Geschichte über Akiris den Weisen. – Кирило-Методиевски студии, 2012, кн. 21, 309-320.
St. Jerome's Lives and the Formation of the Hagiographic Canon. - Scripta-e-Scripta, 12, 2013, 201-210.
Dietetic texts in Medieval Slavonic Literature. Preliminary remarks. – Scripta-e-Scripta, 2019, vol. 19, 327-342.
---